St. Joseph High School & Catholic Academy - Kenosha,WI
Classes of 1953 - 2021
In Memory
Gerald Anderson - Class Of 1965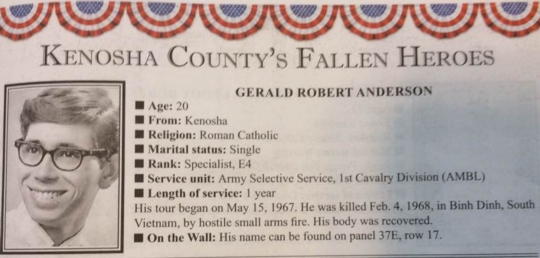 Deceased Classmate: Gerald Anderson (1965)
Date Of Birth: Aug-4-1947
Date Deceased: Feb-4-1968
Age at Death: 20
Cause of Death: KIA Vietnam War
Classmate City: Kenosha
Classmate State: WI
Classmate Country: USA
Survived By: He is survived by his parents, Mr. and Mrs. Robert C. (Oakley Aiello) Anderson; two sisters, Paula and Laura; two brothers, Robert and Ronald, all at home, and his grandmothers, Mrs. Rose Aiello, Kenosha, and Mrs. William Tanking, Kenosha.

CPL Gerald R. Anderson, 20, earlier reported missing in action, in Vietnam, was killed, the Army yesterday informed, Mr. and Mrs. Robert C. Anderson, 2505 71st St. He was the 14th serviceman from the city and county to die in Vietnam. CPL Anderson was believed to have been killed Feb. 4 when his unit was ambushed after being taken into combat by helicopter. The action was such that the unit could not be evacuated by helicopter, and CPL Anderson was last seen "fighting against hostile forces." His parents had been notified on February 8 that their son was missing. He was serving with the 1st Cavalry Airmobile, Company D, 2nd Bn, 5th Cavalry. Gerry attended St. Thomas Elementary School and St. Joseph High School, graduating in 1965. He was formerly a bugler in the Kingsmen Drum and Bugle Corps and was a member of the Veterans of Foreign Wars, Post 1865, and St. Thomas Catholic Church. He was employed at the J.I. Case Company in Racine prior to entering the Army on November 20, 1966. He received his basic Army training at Ft. Leonard Wood, MO and began his one-year tour of duty last May. He suffered an attack of malaria just before Christmas but had returned to active duty. Only recently, he had been awarded the Air Medal. The above information was obtained from a front page story in the Kenosha News dated February 20, 1968 and other sources.