St. Joseph High School & Catholic Academy - Kenosha,WI
Classes of 1953 - 2022
SJCA News and Events
---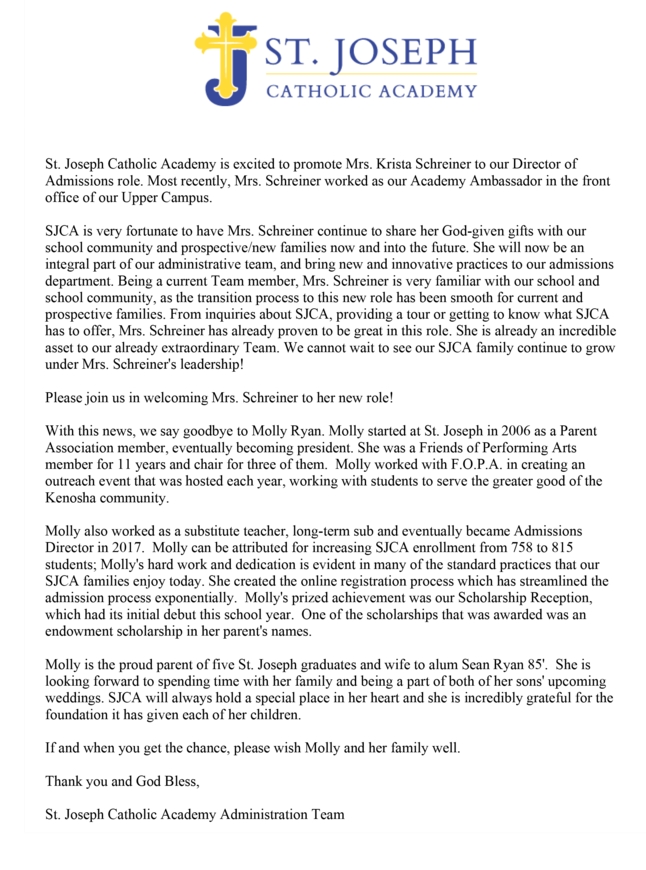 ---
---
---
---
---
---
St. Joseph Catholic Academy is delighted to announce that we have officially filled three leadership positions with excellent and experienced educators, and stewards of our faith.
Mrs. Dawn Secketa will remain our leader at the Lower Campus, serving as the Elementary Principal. Stepping up to the challenge, Mrs. Secketa has served as our Interim Principal at the Lower Campus since January, and has done an outstanding job in serving our Lower Campus students, staff and families over the past 5 months. Mrs. Secketa is a courageous leader and educator with a diverse background in curriculum and instruction, a devout Catholic and caring person. Our Pre-K through 5 students, staff and families are in great hands for years to come. Congratulations, Mrs. Secketa!
Mrs. Courtney Cerny has been promoted to our Upper Campus Assistant Principal position. Most recently, Mrs. Cerny taught English Language Arts and Theology in our middle school, and was also the Coordinator of Student Services for the Upper Campus this past school year. Mrs. Cerny is steeped in our Catholic faith, a fearless leader, excels at best and innovative instructional, intervention and enrichment practices for all students, and has the experience and educational background needed for this position. Mrs. Cerny, alongside Mrs. Bartholomew, our Upper Campus Principal, will make a great team at the Upper Campus!
New to our already outstanding staff at SJCA is Mrs. Jenny Knight-Kenesie. Mrs. Knight-Kenesie has accepted the position of Athletic Director/Dean of Student Life and Activities. Mrs. Knight-Kenesie is a lifelong parishioner at St. Mark's Parish in Kenosha and a St. Joseph High School Alum ('96). Among many accomplishments, Mrs. Knight-Kenesie, formerly Jenny Knight, played Division I basketball at the University of Louisville, where she brought her team to the NCAA tournament in 1997, 1998 and 1999 and was two-time Conference Champion. Most recently, Mrs. Knight-Kenesie was the Head Women's Basketball Coach at the University of Wisconsin-Parkside, along with being the Senior Women's (Athletic Department) Administrator for over 10 years. The then "Coach Knight" guided a struggling program into one of the top Division II Women's Basketball programs in the country. Over the course of 13 seasons, Coach Knight became the winningest coach in program history, recording multiple 20+ winning seasons, five NCAA tournament appearances and two Sweet 16 appearances. Mrs. Knight-Kenesie comes to us highly recommended by several Division I and II college coaches and athletic directors. Jenny states, "We are currently active members of St. Mark's Catholic church and instill our catholic faith and values in our children every day. Our faith is the forefront of our family, and my husband and I cherish the Catholic education we had (at St. Joseph High School) and want our children, and every student, to have that same opportunity at SJCA. SJCA is a forever home for my family and I believe my passion for the school will make me great for this position."
Please join me in welcoming our newly appointed leaders to our SJCA family!
God Bless,
Mr. Matthew Rizzo, M.Ed.
President
---
---
The St. Joseph Catholic Academy athletic department is deeply saddened by and is mourning the loss of our Girls' Tennis Head Coach Nony Schwartz, who passed away last week.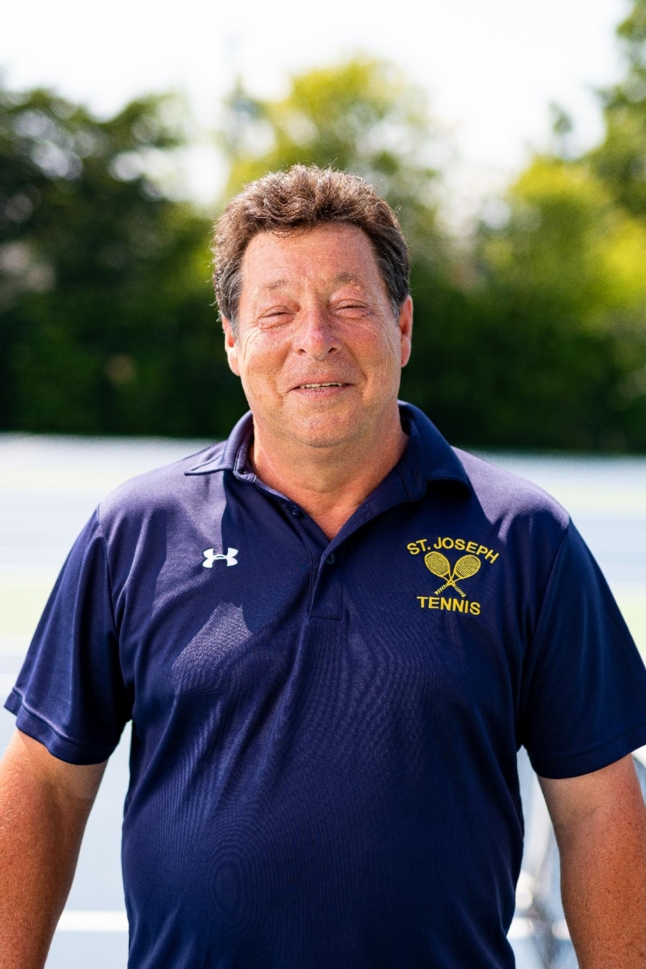 Coach Schwartz was a well-respected tennis coach throughout southeastern Wisconsin. At SJCA, he was instrumental in the development and management of the successful Girls' Tennis program over the past several years. During his tenure at SJCA, Coach Schwartz coached multiple individual state championships, a WIAA Division II state runner-up team and was named the 2017 WIAA Division 2 Coach of the Year. Beyond his success on the court, Coach Schwartz was beloved by those that he coached and worked with and had a bright personality that positively impacted those around him.
Information on services for Coach Schwartz is pending.
Please join us in praying for Coach Nony Schwartz and his family.
---
---
Congratulations to Andrew Setter and the St. Joe's Baseball team on their recent no-hitter victory! Go Lancers!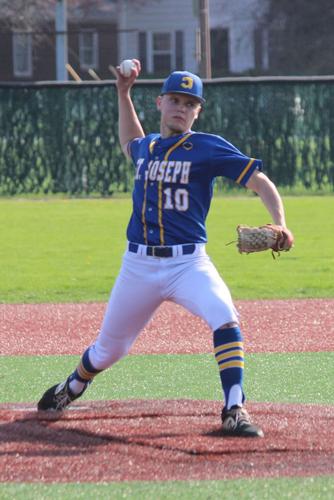 High school roundup: Setter fires no-hitter for St. Joseph baseball team
Click here to read the article
---
---
Congratulations to our 2022 Junior Prom Court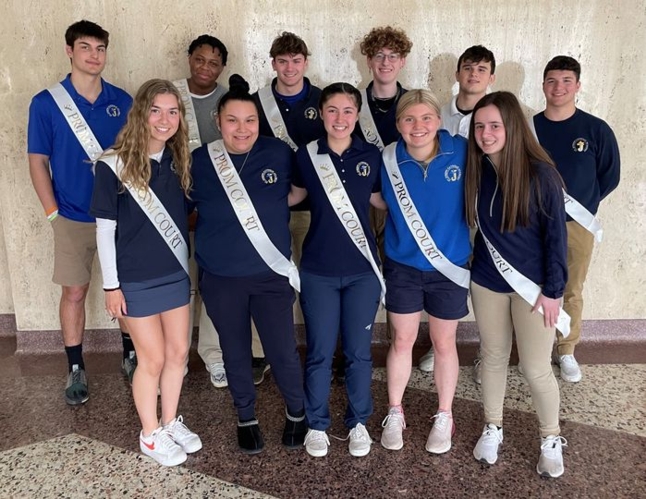 ---
---
The Alumni Association would like to congratulate Matt Rizzo for his appointment as President of SJCA. We look forward to working with you.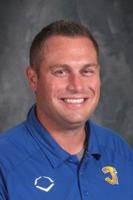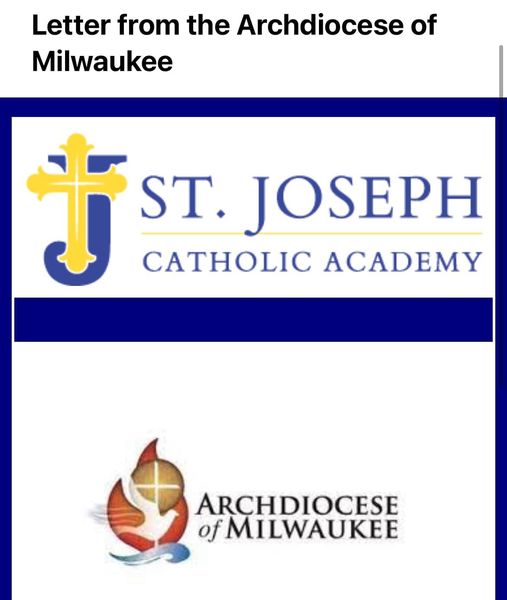 St. Joseph Catholic Academy President Appointed
April 5th, 2022
Dear St. Joseph Catholic Academy Community:
Milwaukee Archbishop Jerome E. Listecki has appointed Matthew Rizzo to the role of President of St. Joseph Catholic Academy (SJCA) in Kenosha. Rizzo had been serving as interim President since January of 2022, during the search for a new President.
"Our months-long search brought us to the conclusion that the most qualified candidate is right here with us in Matthew Rizzo," said Superintendent of Catholic Schools Kathleen Cepelka. "His experience, professionalism and ability to bring people together toward a common vision will help St. Joseph Catholic Academy continue its legacy of excellence."
"I have enjoyed the past few months serving as interim president, and I'm grateful for the archdiocese's confidence in me to continue to lead and further strengthen the academy, so we can secure a bright future for Catholic education in Kenosha," said Matt Rizzo, M.Ed, SJCA President.
Rizzo was previously the middle school principal. SJCA High School Principal, Bridget Bartholomew has taken on academic leadership of both the middle school and high school.
St. Joseph Catholic Academy is a comprehensive 3K through grade 12 Catholic college preparatory school, comprised of two academic campuses, designed to educate the whole child.
Blessing,
Very Reverend James E. Lobacz
Transition Board of Directors - Chair
Vicar General
---
---
Congratulations to Co'ji C. as he won the WIAA Division III State Championship in Wrestling at 113 pounds this past weekend!!! 2/28/22
---
---
---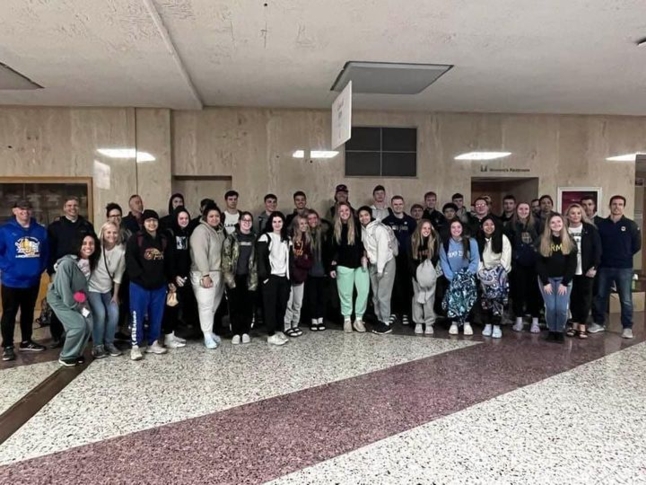 An early but good start to the 2022 Senior Mission Trip. Gallup, New Mexico here they come. May they each be the hands and feet of Christ this week while they serve and love those whom they meet!
Please keep each of these Seniors in your prayers this week. 3/22/22
---
---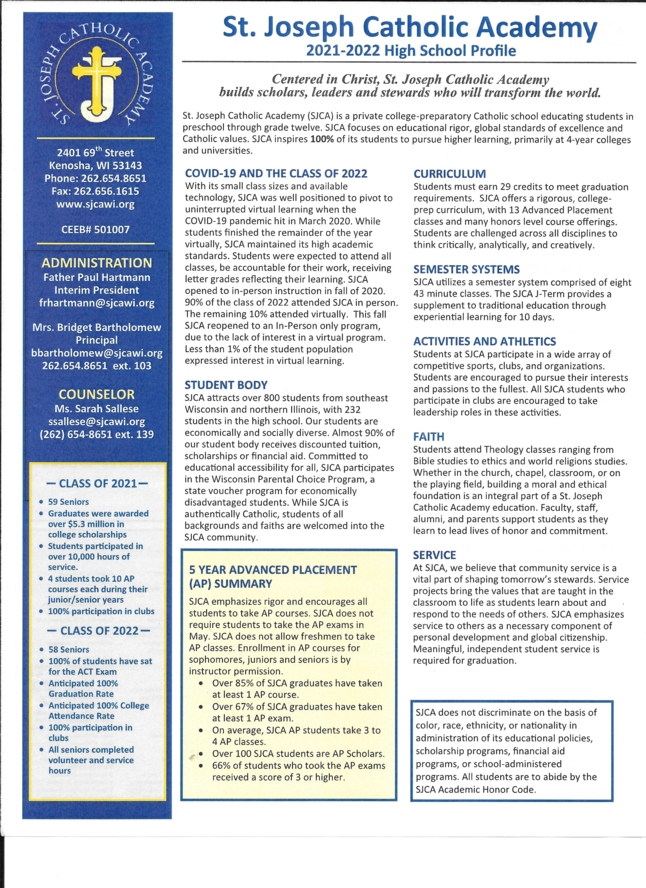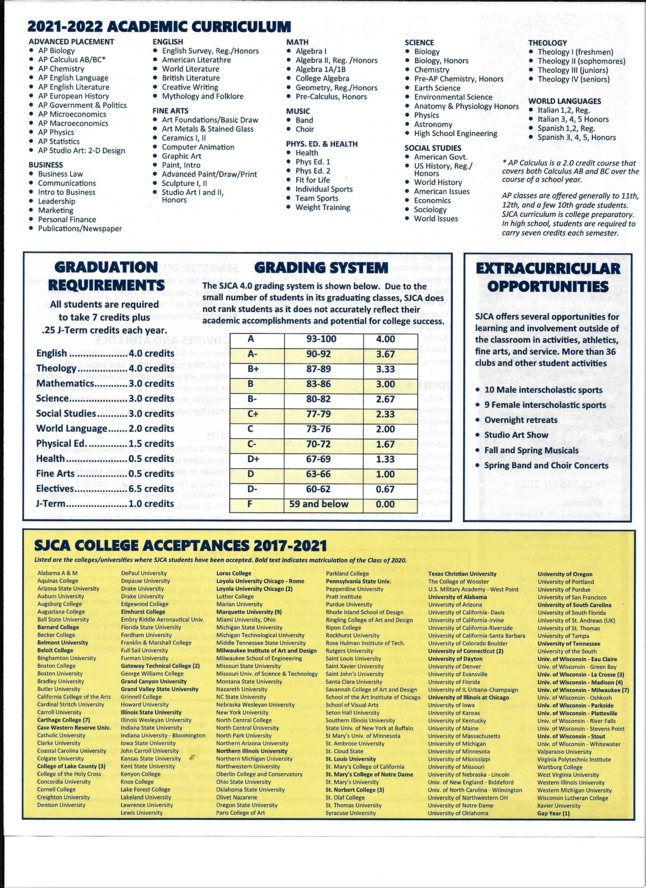 ---
---
---