St. Joseph High School & Catholic Academy - Kenosha,WI
Classes of 1953 - 2022
In Memory
Carole Wiberg (Metallo) - Class Of 1962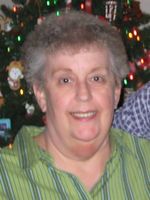 Carole Patricia Metallo, 70, of Kenosha, passed away peacefully on Saturday, November 15, 2014, at her home surrounded by her loving family.
Born in Kenosha on April 10, 1944, she was the daughter of the late Carl and Mary Jo (Christensen) Wiberg. She was a 1962 graduate of St. Joseph's High School.
On October 21, 1972, she married James Metallo at St. Mark's Catholic Church.
Carole was a member of St. Mark's Catholic Church and the Girl Scouts. She loved baking and cooking. She loved Christmas, traveling, reading and watching mysteries.
She is survived by her loving husband, James of Kenosha; her son, Jason Metallo of Kenosha; two brothers, Kenneth Wiberg of Bristol and Charles (Joan) Wiberg of Pewaukee; her sister, Karen (Stephen) Czajka of Gaithersburg, MD; and her brother-in-law, Raymond Scuglik of Pleasant Prairie.
Carole was preceded in death by her parents; two sisters, Suzanne Williams and Joanne Scuglik; two brothers-in-law, Thomas Benkovich and Lawrence Williams; and father-in-law, Emil Metallo
A Mass of Christian Burial will be celebrated on Wednesday, November 19th, at St. Mark's Catholic Church at 11:00 a.m. Interment will be private. Visitation will be held on Wednesday at the church from 9:00 a.m. until the time of the Mass. In lieu of flowers, memorials to the family would be appreciated.