St. Joseph High School & Catholic Academy - Kenosha,WI
Classes of 1953 - 2021

This is an exciting time at St. Joseph Catholic Academy! We are looking to add two key people to work with our leadership to delicately blend traditions and new initiatives to continue to provide an exceptional Catholic education for our 3K through grade 12 students.
Director of Finance – Reporting directly to SJCA's President, you will lead the Academy's business operations ensuring solid accounting practices and a professional, pleasant work environment. This will include AP, AR, preparation of financial statements, budget process, tuition assistance, human resources, etc.
Human Resources Manager - Reporting to the Director of Finance, you will be a leader in setting SJCA's culture of professionalism and cooperation. You will manage the HR functions including benefits administration, full cycle recruitment, employee relations, HR record keeping, payroll, legal compliance, and policy/procedure enforcement.
To learn more, go to Archmil.org or contact Jenny Moyer at moyerj@archmil.org. or 414-769-3370.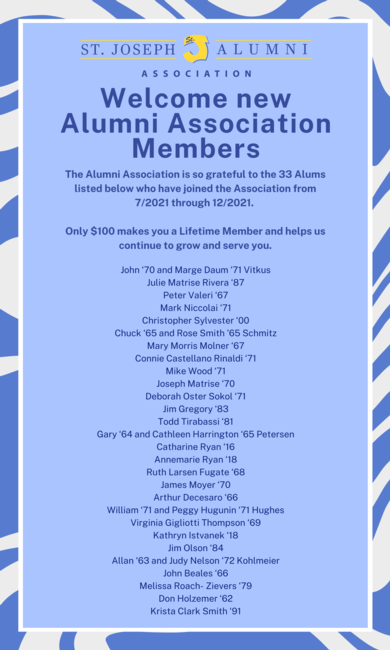 ---
---
Welcome to St. Joseph High School Alumni Website
Check out the First Time Visitors section on the left and also the Member Functions
---
Save the date! Save the date! Save the date! Save the date!
This year's musical is sure to be amazing! Mark your calendar now - tickets will go on sale very soon.
Friday, March 11th - 7:00 pm
Saturday, March 12th - 2:00 pm & 7:00 pm
Sunday, March 13th - 2:00 pm
Friday, March 18th - 7:00 pm
Saturday, March 19 - 2:00 pm & 7:00 pm
Sunday, March 20th - 2:00 pm
---
---
---
---
---
Join the Alumni Association
The mission of the St. Joseph Alumni Association is to build a stronger Alumni community by promoting a St. Joseph Catholic education; to provide a venue for all alumni members to renew old friendships and working relationships; to connect alumni, past teachers, and administrators to each other, and to the present students and staff; to assist students by offering scholarships and mentoring and finally, to keep the Lancer spirit alive in all of us.
The St Joseph Alumni Association financially supports:
All St Joseph fundraising events including the auction, spring musical, and the golf outing

Maintenance of the Alumni website and Alumni Facebook page

Special Projects including the stone benches for the Grotto

Alumni gatherings

Annual scholarships for deserving SJCA High School students

Guidance for class reunion committees

Preservation of the history of St Joseph High School
St. Joseph's Alumni Association relies solely on our Lifetime memberships. The success of the Alumni Association depends on Alumni support and participation.
We hope you will consider becoming a Lifetime Member for $100
https://www.kenoshastjoseph.com/alumni#about-st-joseph-alumni-association
---
Planning Your Class Reunion?
If you would like your Reunion Information included in our Reunion Calendar (look to your left), please use the "Contact Us" feature and let us know the specifics of your reunion. The Alumni Association is here to help.
---