St. Joseph High School & Catholic Academy - Kenosha,WI
Classes of 1953 - 2022
In Memory
Herbert Pias - Class Of 1965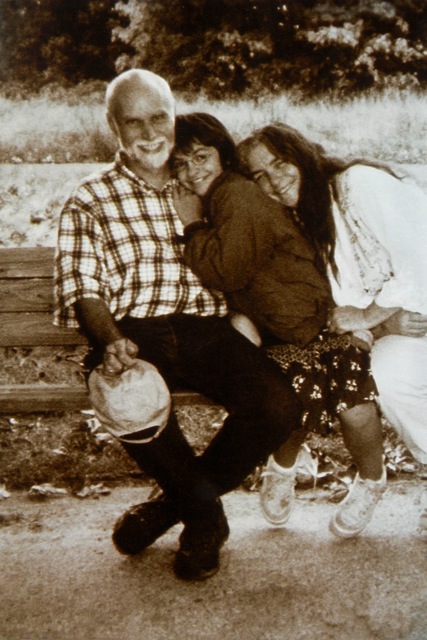 Herb Pias, Evan Casey, and Marcia Casey
Deceased Classmate: Herbert Pias
Date Of Birth: Feb-28-1947
Date Deceased: Mar-19-2012
Age at Death: 65
Cause of Death: Pulmonary Fibrosis
Classmate City: Seattle
Classmate State: WA
Classmate Country: USA
Was a Veteran: Yes Air Force
Survived By: Herb is survived by his wife, Marcia Casey of Seal Rock, OR; his stepdaughter, Evan Katharine Casey of Seattle, WA; and his older brother, Joseph (Roberta) Pias of Carver, MN.

Herbert E. Pias, Jr., 65, of Seattle, WA, died March 19, 2012 due to complications from pulmonary fibrosis.
Herb was born February 28, 1947 in Kenosha, WI and was the youngest of two sons born to Herbert E. and Catherine (nee Roders) Pias. In 1947, when Herb was only eight months old, his father died. Subsequently, he was raised by his Great Aunt and Uncle, Gertrude and John Bergren; his mother, Catherine, died in 1970.
He attended Saint Casimir Catholic Grade School and was a 1965 graduate of Saint Joseph High School. Upon graduation he enlisted in the United States Air Force. He received his basic training at Lackland AFB, TX and advanced individual training as an Intercept Operator (better known as a Cryptologic Linguist) at Keesler AFB in Biloxi, MS. He served on active duty for 3 years and 10 months and was honorably discharged August 12, 1969 at the rank of Airman 1st Class. His military awards include the National Defense Service Medal and the Small Arms Expert Marksmanship Ribbon. Upon discharge from the U.S. Air Force Herb returned to Wisconsin where, in 1970, he enrolled at the University of Wisconsin-Madison. While at UW-Madison Herb earned a Bachelor of Science Degree in Political Science and a Masters Degree in Social Work. Later, Herb would go on to earn a Masters Degree in Library Science from the University of Washington in Seattle.
For a time Herb was employed by the United States Post Office and in 1994 got a job with the United States Internal Revenue Service in Seattle from which he retired in 2007. After retiring from the IRS Herb lived for a year in Jackson, WY before returning to Seattle.
Herb enjoyed living a simple and rather ascetic lifestyle. He never owned or drove a car, preferring to simply walk or ride his bicycle to wherever he was going. Given his druthers, he would choose to live in an efficiency apartment.
As a child he was raised a strict Catholic but as an adult he struggled with religion and opted to pursue a more spiritual life. At one time he enlisted the help of a Buddhist monk to be his spiritual advisor. Herb was voracious reader and enjoyed hiking, biking, travel, tai chi, photography, and playing scrabble. During his college years, Herb went on a 12 week bike tour of the British Isles. He also photographed many of the antiwar protests on the UW Campus during the early 70's.
In 1970, while at the University of Wisconsin-Madison, Herb met fellow student, and future wife, Marcia Casey. She was from Burlington, WI and they were married in 2006. While they had no children of their own, Herb was the godfather to Marcia's daughter, Evan, and upon Herb and Marcia's marriage, he became Evan's stepfather.
Herb passed away at home, lovingly cared for by his wife. Upon Herb's death his body was cremated and his ashes scattered in Puget Sound. No notice of his death was ever filed with any newspaper.
Herb is survived by his wife, Marcia Casey of Seal Rock, OR; his stepdaughter, Evan Katharine Casey of Seattle, WA; and his older brother, Joseph (Roberta) Pias of Carver, MN.
The information above was gleaned from records found in the Veterans Affairs office in Kenosha, WI and from hours of written and telephonic correspondence with Herb's wife, Marcia Casey and his brother and sister in law, Joseph and Roberta Pias.
I want to thank them for their trust and confidence and for sharing their thoughts and insights into Herb's life. Shortly after Herb's death, Marcia produced a very touching online pictorial review of Herb's life, set to music, which can be viewed at:http://vimeo.com/42810656 . For those in the SJHS-65 class who knew Herb and, especially, for those who did not, it is worth viewing this well prepared 22-minute tribute. GNN