St. Joseph High School & Catholic Academy - Kenosha,WI
Classes of 1953 - 2020
In Memory
Raymond Larsen - Class Of 1968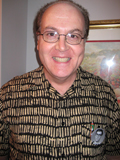 Raymond E. Larsen

1950 - 2014

Raymond E. Larsen, 64, of Kenosha passed away in his home early Monday morning, May 12, 2014, after a courageous, inspiring, 11-plus month battle with brain cancer.

Born in Kenosha on Feb. 12, 1950, he was the son of Helen (Mischler) Larsen and the late Jack Larsen. He attended St. George School and St. Joseph High School (1968). He attended the University of Wisconsin-Parkside prior to completing his education at the University of Wisconsins School of Pharmacy in Madison (1973).

On Aug. 12, 1972, he married his high school sweetheart Deborah Rizzo.

A pillar of the community, Raymond served Kenosha in a multitude of ways. Post graduation, Raymond began working as an independent pharmacist for Harry Mayer Jr. and Mayer Drug in downtown Kenosha. He purchased the pharmacy, renamed it Larsen-Mayer Pharmacy and relocated it twice, including to its current location in the Gateway Medical Building on Kenoshas northside. Raymond continued to shepherd Larsen-Mayer Pharmacy through the early stages of his diagnosis prior to selling the business to Philip Berce and Good Value Pharmacy last November. During his 40-plus working years, Raymond served with a selfless generosity that made him more than a pharmacist to tens of thousands of Kenoshans.

A devout Catholic, Raymond served Our Lady of the Holy Rosary of Pompeii parish for decades as trustee, lector, Eucharistic minister, and choir member. He also sat on and chaired multiple committees.

He also was an integral member and multiple-term president of the Kiwanis Breakfast Club of Kenosha and took joy in going to local elementary schools to promote the clubs annual "Walk With a Friend" project. He served as advisor to St. Joseph High Schools Key Club for years as well.

A lifetime member of the Wisconsin Alumni Association, Raymond also was involved with many pharmacy groups, beginning as a member of Phi Delta Chi fraternity at UW. He was also a member of the Pharmacy Society of Wisconsin and served a term on the board of the independent collective Partners in Pharmacy Cooperative (PIPCo).

Survivors include his loving wife, Deborah (Rizzo) Larsen, of Kenosha; three children, Jennifer Larsen, of River Falls, Wis., Michael (Bridget) Larsen, of Kenosha, and Michelle Larsen, of Kenosha; two grandchildren, Kayla and Kyle; mother, Helen Larsen, of Kenosha; brothers and sisters, John (Julie) Larsen, of Winfield, Ill., Ruth (Don) Fugate, of Kenosha, and Jeff (Janet) Larsen, of Menomonee Falls, Wis.; brothers- and sisters-in-law, David (Barbara) Rizzo, of Fitchburg, Wis., and Doreen (Larry) Leiting, of Kenosha; five godchildren, Jess Larsen, of Colorado Springs, Colo., Raymond Young, of Kenosha, Shannon Rizzo, of Fitchburg, Wis., Jack H. Larsen, of Menomonee Falls, and Kayla Larsen, of Kenosha; and nieces, nephews, other relatives, friends, and dedicated former employees.

In addition to his father, Raymond was preceded in death by his in-laws, John and Frances Rizzo; and his uncles, Paul Larsen and N. Emory Mischler.

Funeral Services will be held on Friday, May 16, 2014, beginning with a prayer service at 9:15 a.m. at the Piasecki-Althaus Funeral Home. A Mass of Christian Burial will be celebrated at 10 a.m. at Our Lady of the Holy Rosary Catholic Church, 2224 45th Street. Interment will follow in St. George Cemetery. A visitation for Raymond will be held at the funeral home on Thursday, May 15, from 4 p.m. to 8 p.m. In lieu of flowers, memorial remembrances directed to the family, which will be used to establish a Foundation in Raymonds memory, would be appreciated.

The Larsen family would also like to thank Raymonds support team for their care and service: Mark Neu and the staff at Alliant Physical Therapy of Kenosha; David G. and Jackie V. of Home Instead; Kathy C., Amy W., and Belinda of Wheaton Franciscan Home Health & Hospice in Racine; Dr. R. Milosevic and Dr. C. Hwang and staff at the Joseph F. Andrea Regional Cancer Center at St. Catherines in Kenosha; Dr. J. Connelly, Dr. W. Mueller, Dr. P. Foy, Dr. M. Malkin, Dr. K. Jacobsohn and the staff at the Froedtert Cancer Center in Milwaukee.