St Joseph High School & Catholic Academy - Kenosha,WI
Classes of 1953 - 2019
Reunion Calendar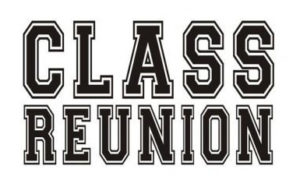 (in order of occurrence)
---
CLASS OF 1969
---
CLASS OF 1967
70th Birthday Party with Tremper and Bradford '67's
Saturday, July 20, 2019 - 5:00 p.m.
Meet at St. Therese festival

No RSVP required.
---
CLASS OF 1964
55th Reunion
Friday, September 13, 2019
Informal Gathering - The Dish at

6:00 p.m.

1220 N Ohio St A,

Racine
Saturday, September 14, 2019
Reunion - Casa Capri at

5:30 p.m

.
Contact Julie Smith Whyte for information at jsmithwhyte@gmail.com
---
CLASS OF 1999
20th Reunion
Saturday, September 21, 2019
6:00 p.m.

The Club at Strawberry Creek -14810 72nd Street, Kenosha
Contact for information:
Heather Bronk Patrenets hpatrenets15@gmail.com
Marissa Bragado Pastori mbragado@gmail.com
Karin Roberts Kirsch karinkirsch14@gmail.com
Sarah Becker Longoria sarahmarie26@yahoo.com
---
CLASS OF 1974
45th Reunion
Saturday, September 21, 2019
1:00 pm Homecoming Game at Ameche Field

5:15 pm Mass at St. Anne's -9091 Prairie Ridge Blvd, Pleasant Prairie

6:00 pm Cocktails Birchwood Grille - 7515 125th Ave, Pleasant Prairie

7:00 pm Dinner

$30/person. Checks payable to Class of 74 Reunion. Mail to Rich Mich, 8003 48th Ave. Kenosha, 53142
RSVP by September 14. Email Rich Mich at shercookr@yahoo.com
---
CLASS OF 1959
60th Reunion
Saturday, September 28, 2019
Bristol Oaks Country Club -16801 75th St, Bristol

Social/Cocktails/Appetizers 5:00 - 6:30 p.m. Dinner to follow. Handicapped accessible banquet room.

Invitations with details and menu selections have been mailed out. Please contact Gloria Ridolfi Peterson glor712@earthlink.net or Ron Rizzo hoyaron@wi.rr.com if you did not receive one.

Please contact Ron if you'd like to golf some time over the weekend.
---
---
CLASS OF 1972
50th Reunion
Saturday, September 10, 2022
Contact Peter Mich for information at pmich241@gmail.com
---
CLASS OF 1994
25th Reunion
Contact Kim Jensen Bohat for information kimberly.jensen@marquette.edu