St Joseph High School & Catholic Academy - Kenosha,WI
Classes of 1953 - 2019
Alumni in the News
Congratulations Claire Czerwonka '17 and Olivia Czerwonka '19
Czerwonka Sisters Named MVC Doubles Team of the Week
TUESDAY, MARCH 10, 2020
The sister doubles duo of Olivia and Claire Czerwonka (Kenosha, Wis. / Saint Joseph Catholic Academy) received recognition from the Missouri Valley Conference this week as they were named the league's Doubles Team of the Week.
Olivia and Claire swept their No. 1 doubles matches at the USTA National Tennis Center in Orlando. They blanked Hampton's pair 6-0 on Wednesday as Valpo achieved the rare feat of sweeping the two doubles matches that were played without dropping a single game. That performance set the tone for the team's eventual 6-1 victory over Hampton despite having to forfeit at No. 6 singles and No. 3 doubles due to an injured player. The Czerwonka sisters returned to the court later that day to battle their way to a 7-5 triumph over Grand Valley State.
Claire, a junior, ranks ninth in the Valpo record book for career doubles wins with 39. Olivia, a freshman, is off to a good start to her career in the doubles department with a team-high 13 victories.
This marks Valpo's second MVC honor this season and first Doubles Team of the Week award after freshman Amanda Tabanera (Valencia, Calif. / Valencia) was tabbed the Singles Player of the Week on Feb. 18. Claire previously won two MVC Singles Player of the Week awards and two Doubles Team of the Week honors during her freshman season, while this marks Olivia's first MVC accolade.
Having already equaled the program's highest win total since the 2006-2007 season, head coach Bob Modesto's team will return to action on Friday, March 27 at Northern Illinois in a match that is slated to begin at 7 p.m. in DeKalb. The precedes the Missouri Valley Conference opener on Saturday, April 4 at Illinois State.
---
---
Congratulations Gina Madrigrano Friebus '72
March 6, 2020

---
---
David Bastianelli '68 Longtime Kenosha County judge retiring
Jan 22, 2020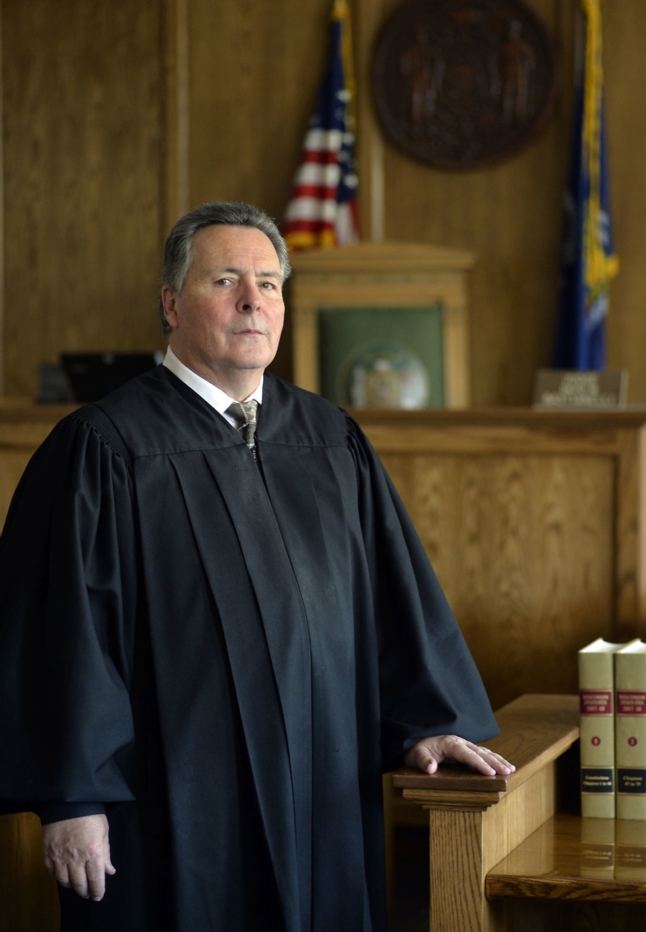 After more than 36 years on the bench, Kenosha County Circuit Court Judge David Bastianelli will soon be stepping down.
Bastianelli quietly submitted a letter of resignation to Gov. Tony Evers in October, letting the governor know he would be retiring effective March 31.
The governor's office is conducting a second round of interviews for candidates for his position, likely to announce an appointment in coming weeks.
Whoever is appointed to the position will serve the remainder of Bastianelli's term, which runs through 2021; the seat will then come up for election.
"I figured after a little over 36 years on the bench, it's about time to call it a day," Bastianelli said.
He said he didn't make any public announcement about his decision, saying he likes to keep a low profile.
Bastianelli, 69, started his career in Kenosha County in 1976 as a prosecutor in the district attorney's office, then moved on to private practice.
He was elected as a municipal judge for the city of Kenosha, then appointed to circuit court judge in 1984. "I've been doing this ever since," he said.
"What a great guy, he really is," Judge Bruce Schroeder said of Bastianelli. "He's not just really a splendid judge, but a splendid man too."
Schroeder and Bastianelli's working life together goes back a long way. They worked together at the district attorney's office before both becoming judges. They are now the two longest-serving judges of the 279 judges in the state.
"Judge Schroeder has me by nine months, and at this moment he and I are the No. 1 and No. 2 active judges in Wisconsin," Bastianelli said.
"It really will, truly, be a loss for me," Schroeder said of his fellow judge's departure. Schroeder said he hopes to continue to serve, planning to run for re-election this spring.
High marks
Bastianelli praised the county's judicial system, with what he said is a collegial relationship between judges, the clerk's staff and a county government that has been supportive, including ensuring that the historic Kenosha County Courthouse — "which I consider a jewel" — has been renovated and consistently maintained.
The biggest changes of his time on the bench have been in technology, with electronic records and internet-based legal research changing the way lawyers and judges work.
He has been instrumental in helping along that change in Kenosha County, his interest in technology leading to him being part of planning process for updates in the courthouse.
He remembers when case files would be stacked so high on the angled bench in the courtroom "that by the end of the day gravity would send them to the floor."
Now, he said, "we are basically a paperless court system."
Dedicated to research
On the bench, Bastianelli is known for doing his homework, spending hours outside of the courtroom doing research to make sure his decisions on motions are sound.
"Each case, to an individual citizen that comes through the court system, is as important to them as any case. How you react, how you treat the individuals, how you prepare for the case to be fair to the parties — it is very important to try to make the best decision that you can," he said.
He said he has tried to keep in mind as a judge the impact of his decisions on people's lives.
"Your decisions, whether it's a small claims case or a criminal case, determine and impact individuals lives so greatly, and there is a great deal of responsibility in making those decisions," Bastianelli said. "So that's something that stays with you, something you never forget about."
In retirement, he said, he plans to spend time with his grandchildren, to travel, and to continue to teach law courses online.
"It's been enjoyable doing this work," he said, looking back on his tenure. "I hope I've done a good job."
---
---
Dennis Serpe '70 from the Kenosha News January 18, 2020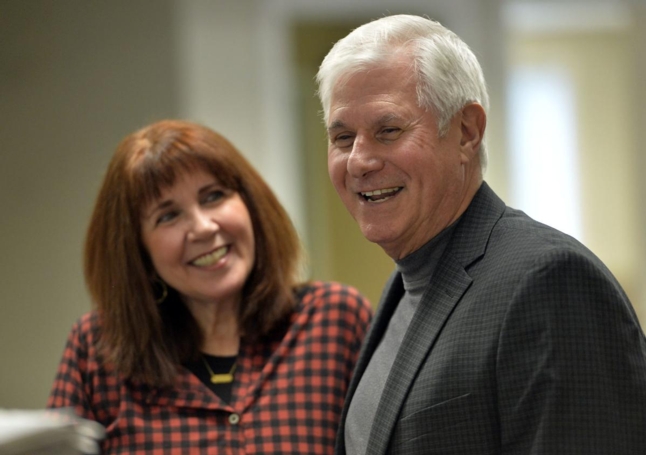 Mary Gallo Serpe '70 and Dennis Serpe '70.
Serpe's first day at the Kenosha News — Oct. 2, 1972 — came about thanks to a timely phone call.
"I was getting married in 1973," Dennis explained over lunch Tuesday. "My future mother-in-law got a phone call, asking if her son wanted to come back and work at the Kenosha News again. She said no, he was working somewhere else but added, 'my future son-in-law needs a job.'"
Serpe showed up in the circulation department, where he was told to grab a set of keys and get in a truck.
"But I didn't know how to drive a stick-shift, so I couldn't take the job," he said.
On his way out of the building, he walked past longtime News executive Bill Schulte, who told him, "maybe you can come and
"I think he felt bad for me because I was so disappointed," Serpe said. "I always think if I had walked out a different door, I would never have worked here."
His first job at the News was far from glamorous; he worked on a machine printing out 700 address labels each day to be wrapped around papers and sent out of town.
In May of 1973, a District Manager job opened up, and he suddenly was in charge of about 100 newspaper carriers who, in those days of afternoon newspapers, were students walking (or biking) the routes after school.
That's how I met him, as did so many young carriers over the years.
"I loved working with those kids," Serpe said. "I still run into people who tell me they had paper routes, and they thank me for that job, which taught them responsibility. You had to be on time, and if someone paid you for several weeks in advance, you had to budget that money."
When Serpe started that job, he was just 20 years old — "not that much older than some of the teens with paper routes" — and he "enjoyed seeing them mature." By the time I had a paper route, Serpe was a grizzled veteran at age 23, with a mop of curly brown hair and enough charm to command the attention of squirming kids who were learning they had to knock on doors and collect money from people. The hair is silver now, and the charm has only grown.
Move to advertising
Serpe joined the advertising department — "moving upstairs," as he puts it — in March of 1980 as an Associate Salesperson.
"That was a title they gave you while they saw how you did," he explained. "You had no accounts; you had to go out and find advertisers."
Serpe was later promoted to head of Retail Advertising and Assistant Advertising Director.
Those were busy years for Serpe, who recalls, "I had 75 to 100 active accounts, and at that time, you had to get the ad ready and then take it to the advertiser to get approved. When the fax machine came in, that was a huge change. We didn't have to go running around so much." (Another huge change was putting ad tickets into a computer instead of on paper. "We all hated it at first but had to get used to it," he said.)
Friends and mentors
He listed several News employees who "were great friends and mentors to me": Jim Hawkins, Bill Bastian, Tim Boyle, Don Orth, Frank Misureli, Gene Schulte, Ken Dowdell, Ron Montemurro and longtime News publisher Howard J. Brown.
"I almost hate to mention anyone because I don't want to leave anyone out," he said.
Outside of the Kenosha News, one of his mentors was Ralph Tenuta, the longtime owner of Tenuta's Deli & Liquors, a Kenosha landmark packed with imported Italian and domestic foodstuffs.
"I handled his account for more than 35 years and watched that business really grow," Serpe said. "He taught me so much, especially not to dwell in the past but to always look forward. He would tell me: 'Look back, Dennis, but don't stare.'"
Quick hits
In a wide-ranging talk, we covered many topics over the past half-century:
Why stay so long at the News? "Working with all those good people," Serpe said. "It's also a challenge every day to put out a newspaper, so it never gets boring."
Was advertising decades ago the way it's portrayed in the TV show "Mad Men"? "I missed those days by a few decades, but it really was like that," Serpe said. "The most successful salesman at the News would take his clients to the Elks Club and sell ads over three-martini lunches."
How did you weather all those changes over the years? "I always thought if you had a good work ethic and were fair and honest with people, it would work out. I looked out for my customers, and they looked out for me."
Why should someone subscribe to the Kenosha News? "You can't find this local news anywhere else. A newspaper is the voice and the face of the community."
What advice would you give your 20-year-old self? "Let go of what you can't control. In a hundred years, it's not going to mean much, as Mr. Brown told me."
On feeling blessed. "They say you have luck three different times in your life," Serpe said. "With me, it was No. 1, my wife, Mary. No. 2, I didn't get drafted and, No. 3, working at the Kenosha News."
Favorite moments from his long career. "I remember being offered a full-time job in 1973 and how proud my parents were that it was at the Kenosha News," he said, adding, "It was also great on Christmas Eve when Gene Schulte would hand out our Christmas bonus checks."
His superpower
Serpe has worn many hats here over his decades at the paper, but he has a very special talent not related at all to the news business.
Through all the many years and all the people he has come into contact with, no one has a bad word to say about Dennis Serpe. In fact, the mere mention of his name brings a smile to everyone's face.
---
Sam Kuffel '11 daughter of Paul Kuffel '79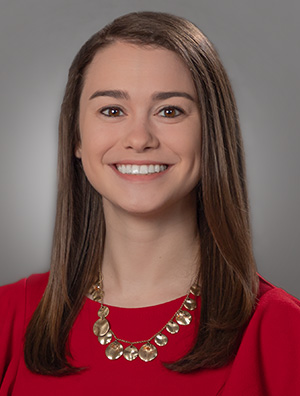 Sam joined the CBS 58 weather team in December 2019 as a weekend meteorologist after spending three and a half years as the midday meteorologist at WAOW in Wausau. As a Kenosha native, she is ecstatic to be back home forecasting for southeast Wisconsin.
Like most meteorologists, Sam's passion for weather began at a young age. As a child she spent countless hours watching The Weather Channel and repeatedly rented the same severe weather books and tornado videos from her local library. While she always knew she wanted to be a meteorologist, that desire was heightened when two tornadoes tore through her hometown on January 7th 2008. One of those tornadoes caused significant damage to her aunt and uncle's house in Kenosha county, while another weaker tornado went just north of her house in the city. Her passion for winter weather grew just three years later after 23 inches of snow fell at her house during the infamous Groundhog's Day blizzard of 2011.
Sam went on to study at UW-Milwaukee where she graduated with a degree in Atmospheric Science. While at UWM, she worked for a private forecasting company called Innovative Weather, where she had the opportunity to provide specific forecasts for clients like WE Energies, Summerfest, and the Milwaukee Brewers. Sam was also an intern under John Malan at TMJ4 for two years, which made her want to pursue a career in television.
Sam is a huge Wisconsin sports fanatic, so when she isn't forecasting, you'll likely find her at Miller Park or Fiserv Forum. When the weather is quiet, she also enjoys traveling around the country crossing baseball stadiums off of her bucket list.
---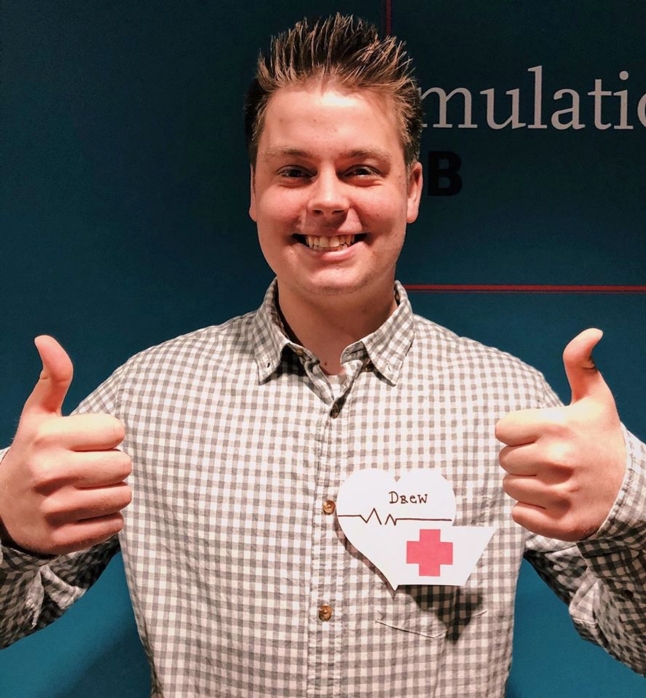 Drew Connolly '17, son of Andrew '85 & Heather Whyte Connolly '88, grandson of Andrew Przlomski '61 is a Student Nurse Intern at Froedtert South, a member of Phi Kappa Sigma, and a nursing mentor in Carthage Nursing's Big Little Program.
---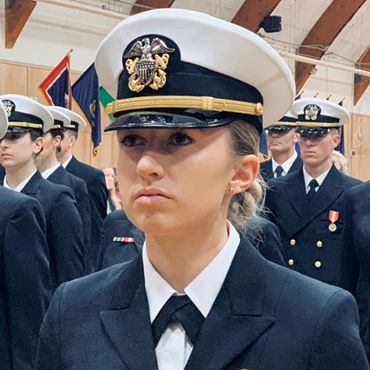 Aleysha Becker '14, UW Madison '19 (double major biomedical engineering and computer science) on graduating from ODS this past weekend. She'll be teaching nuclear propulsion at the naval base in Charleston, South Carolina.
---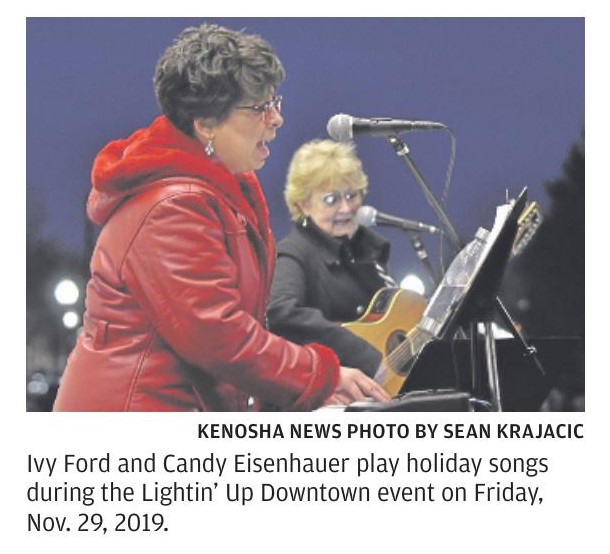 Candy Eisenhauer '71
---
Kate Del Fava '16 has been announced as the 2019 Academic All-America® Team Member of the Year! She is the first Illinois State University Athletics student-athlete in school history to ever be recognized with the honor.
---
Amy Cundari '70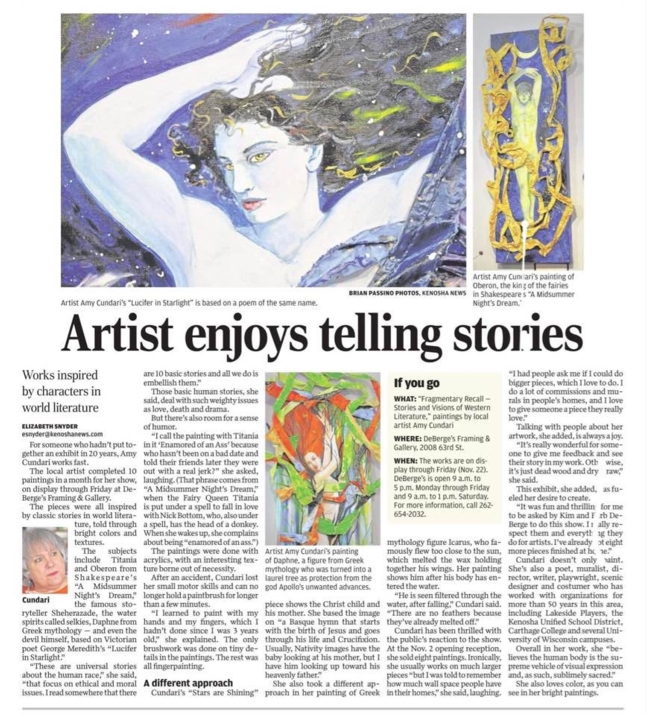 Mady Scopp '16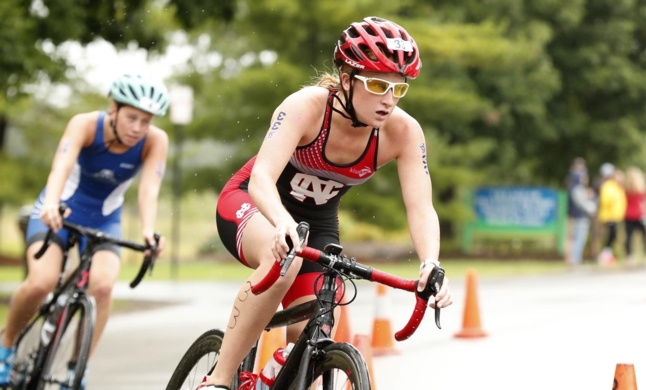 TEMPE, Ariz. (Nov. 16, 2019) - Having to fend off more competition than in years past, the North Central College women's triathlon team captured their third-straight USA Triathlon Division III National Championship, with Mady Scopp '16 taking home the individual title.

.
---
Steve Brunner '80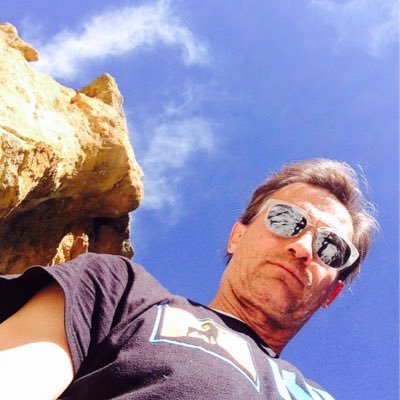 Tell us a little bit about King of the Mountain Sports Marketing?
King of the Mountain Sports Marketing is a company I founded when I left the U.S. Olympic Committee more than 14 years ago. We're mainly a sports events-based marketing and communications company. We work in the Olympic and endurance (mainly professional cycling) space. We've been the marketing agency for many of the top professional cycling races in the U.S. but also have worked several World Championships for various sports, including most recently lacrosse and wrestling. We've also represented several athletes over the years and done some consulting. A small crew but big world-class events.
You were very active with the United States Olympic Committee, is that how you ended up living in Colorado Springs?
When I left the U.S. Olympic Committee several years ago, I knew I wanted to found my own company. I always liked the agency business and I'm not a corporate-kind-of-guy. Colorado Springs, where I was living, had no real sports marketing agencies in the Olympic world, and it seemed logical to start here. Plus, my whole family is outdoorsy and likes it here.
Early in your career I know you were one of the country's foremost experts in cycling, how did that come about? Were you into bike racing?
My roots go back to covering the races at the Velodrome in Kenosha for the newspaper. I did that for two summers while in college. I always liked the sport and wanted to try it competively but never had the money for a bike as a kid. After I ran in college, I wanted to keep competing and took up triathlons and duathlons and probably was better as a multi-sport athlete than just a runner. I fell in love with the bike. Then, I got offered a job to work the Tour de Trump (yes, named after Donald Trump) and moved out east to work on that event, which was a 12-day bike race patterned after the Tour de France. The race went through places like New York, Boston, Washington. It got me vested in the sport and the culture which I liked.
Who are some of the people you've worked for in your career?
I worked for Donald Trump and Ted Turner for starters. I was young and somewhat green and had to present to them which made me sharpen my skills quickly. Both were world-class characters. Ted Turner was one of the smartest guys I ever met. Brilliant. One of my biggest influences, however, was a guy named Mike Plant. He was an Olympic speed skater who grew up in Milwaukee. He was my first real boss and I worked for him on two occasions. Unbelievable work ethic and a guy who was street smart and unrelenting in getting things done. He's one of the Atlanta Braves' presidents now. I also worked for Jim Scherr on two occasions. He went on to become the CEO of the U.S. Olympic Committee. He was a former Olympic wrestler who was super smart and understood long-term strategies. In my opinion one of the best CEOs the USOC has seen.
Who are some of the athletes you've worked with or met in your career?
I've been super fortunate in my career. I worked with the original Dream Team and met all those guys like Larry Bird to Magic Johnson to Michael Jordan. I've also met almost all of the world's top cyclists of the past couple decades including Greg Lemond, Lance Armstrong. And, Olympic icons like Bob Beamon, Jim Ryan, Carl Lewis, Dan Gable, and Mary Lou Retton, and more contemporaries like Rulon Gardner, Michael Phelps, speedskater Apollo Ohno and Dan O'Brien (former decathlon world record holder). Boxers Evander Holyfield, Mike Tyson, Marvin Hagler, and Joe Frazier. In my business, I'm not really star struck, even as a huge sports fan growing up. I've never asked for an autograph because I thought it was not being professional. The athletes that haveleft an impression have been the ones that surprised themselves and won a gold medal like Rulon Gardner or won a race breaking through as a youngster trying to make it in the pros.
You have been all over the world covering sports and involved in the Olympics, where is the coolest place you have been?
Really I never thought a kid from the (then) blue collar city of Kenosha, WI, would go so many places and be a part of so many cool sporting events. We staged an event that finished at the Great Wall in China in the 1990s, well before the country was open to a lot of Westerners. I've been on the set of The Tonight Show three times with three different athletes. I've worked six Olympics on four continents. Sydney ranks among the top for cities but going to Beijing and last year to Tel Aviv and Jerusalem..it is just so different. On the personal front, I love New Zealand where I bungee-jumped off a 365-foot bridge and then just this summer I ran in the Scottish Highlands through shades of green I didn't know existed.
I know you were recently back in KTown, did you get a chance to do anything KTownish while you were here?
I was back for my brother's daughter's wedding. Visited a lot of family. Had to have Pizza. Had to go to The Spot. Common Grounds downtown for coffee. Drove my youngest son, who is in high school, past my old-school St. Joseph. Kenosha is not short on great food. There is NOWHERE in the world with better pizza or Italian food than K-town. I think my five best pizzas are in Kenosha. Oh, and I made the annual stop to Tenutas. You're blessed with great food and great people in Kenosha.
What do you miss most about your hometown?
Family, food, and running at Parkside. The lakefront isn't bad either.
What is next on the horizon for Kenosha's own King of the Mountain?
Things are never dull in sports marketing. I am working on a big one-day professional race in Baltimore and just got done working a world lacrosse event (in Canada). Believe it or not, I've been back in Wisconsin and meeting with various officials on a world-class event in a TBD city for 2021 or 2022. We'll see what happens. FYI, unfortunately, it's not Kenosha.
You've obviously interviewed and worked with some of the giants of the sports industry, who were you most "star-struck" by?
On the athlete front. maybe Magic Johnson or Larry Bird because I was a big basketball player in my formative years when they were stars. Like a true Kenoshan, I've always tried to stay humble and do my job, not stray into idol worship. My mom and dad always raised us to treat everyone the same. I've tried to carry that throughout my life and career.
Last question….be honest, the King of the Mountain name really came from running up the side of a 30-foot around, 20 foot high chunk of ice in the corner of the St. Mary's playground only to get thrown down on our faces, right?
That's hilarious and true at the same time. Judging by the number of fights or crazy things I did as a kid like King of the Mountain on a snow hill in a parking lot, I'm glad to have made it out of childhood alive. KING OF THE MOUNTAIN is a cycling term, but, also is a nod to location of the company which is in the shadows of Pikes Peak here in Colorado Springs. 10.2.2019
---